Vegan Protein Pancake Mix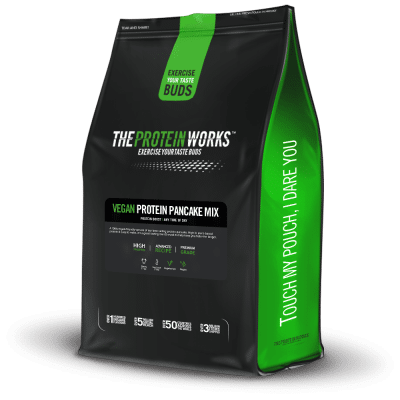 Vegan Protein Pancake Mix
"OMG yes! So easy to make and an absolute plant based treat to eat!" Keira
High in plant based protein, low in sugar, low GI while delivering sweet, fluffy delicious pancakes every time. Featuring no less than 4 plant based proteins, each stack of freshly flipped pancakes delivers 18g of protein along with 26g of slow release carbohydrates to fuel your day from sunrise to sunset. For the ultimate breakfast treat, why not top these beauties off with a generous helping of our famous
Zero Syrups
too?
Nutritional Insights
20.0g
Protein
Per Serving (g)
0.6g
Sugar
Per Serving (g)
"OMG yes! So easy to make and an absolute plant based treat to eat!" Keira


High in plant based protein, low in sugar, low GI while delivering sweet, fluffy delicious pancakes every time. Featuring no less than 4 plant based proteins, each stack of freshly flipped pancakes delivers 18g of protein along with 26g of slow release carbohydrates to fuel your day from sunrise to sunset. For the ultimate breakfast treat, why not top these beauties off with a generous helping of our famous
Zero Syrups
too?
What Is Vegan Protein Pancake Mix?
A true breakfast of champions, our Vegan Protein Pancake mix provides everything you need for the best vegan breakfast. Protein? You bet, each stack of 4 pancakes is loaded with 31g of muscle building protein. Carbs? Check! 26g of Carbs per serving to be exact, each one squeezed down to leave our pancakes slimmed down to perfection at just 75 calories per gloriously light pancake. Flavour? Of course, we're the kings of flavour! Simply the best tasting vegan protein pancakes you could ever imagine. Ready in just 10 minutes, each of our 2 insane tasting flavours have been engineered to deliver maximum flavour whilst being completely locked down to less than a gram of sugar per serving! A masterpiece? Well that's down to you, but its safe to say you'll be thanking the TPW Wizards for this one.
What Are The Benefits Of Vegan Protein Pancake Mix?
High in Protein, delivering 20g of Protein per 80g serving to contribute to the growth and maintenance of muscle mass

Made using our innovative Quad Protein Blend to provide an unrivalled amino acid profile

Simple and easy to make, ready in just 10 minutes

A great source of fibre, to ensure these bad boys go down as easy as they go in!

Just 75 calories per pancake, each one being low in saturated fat

Low in Sugar, less than 1g of sugar per serving

Naturally rich in phosphorous, providing normal energy yielding metabolism whilst maintaining healthy bones
Why Buy Vegan Protein Pancake Mix?
Our Vegan Protein Mix is ideal for anyone looking for a quick, fulfilling vegan breakfast. 10 minutes is all you need to go from zero to tasty whilst proving all the essential protein and carbohydrates you need to go smash the day ahead. Whilst convenient, we confidently know you won't find a better tasting Vegan Protein Pancake mix, each 3 of our incredible flavours have been created in our iconic flavoury, creating insane tasting Protein Snacks and Protein Shakes is what we do! If you're looking for an extra special plant based protein breakfast, why not top your next stack with our Roasted Cacao Nibs or our famous Peanut Butters.
Who doesn't love pancakes? And if you don't, well you haven't tried TPW™ pimped up Pancakes! It can be hard to eat incredibly healthy and still give your taste buds some fun, that's why we are here to help you on your nutritional fitness journey. Our Vegan Protein Pancake Mix comes in a resealable pouch, meaning that you can conveniently make them whenever you need to refuel or add some extra protein to your diet.
* Disclaimer: Customer reviews are independent and based on personal experience. Individual results may vary. Products designed to be taken in conjunction with a balanced diet and training plan. Nutritional Information per serving based on Original Classic.
Read more
Nutritional Info
What's in it?

| | | | | |
| --- | --- | --- | --- | --- |
| Values based on: | per 100g serving | per 80g serving | &nbsp | &nbsp |
| Energy (kJ) | 1518 | 912 | &nbsp | &nbsp |
| Energy (kcal) | 363 | 218 | &nbsp | &nbsp |
| Fat (g) | 6.3 | 3.8 | &nbsp | &nbsp |
| of which Saturates (g) | 0.7 | 0.3 | &nbsp | &nbsp |
| Carbohydrates (g) | 36 | 22 | &nbsp | &nbsp |
| of which Sugars (g) | 1.3 | 0.8 | &nbsp | &nbsp |
| Fibre (g) | 5 | 3 | &nbsp | &nbsp |
| Protein (g) | 23 | 18 | &nbsp | &nbsp |
| Salt (g) | 2.5 | 1.5 | &nbsp | &nbsp |
To create the perfect TPW™ Protein Pancake simply follow these directions:
1.Add two heaped grey scoops (80g) to 180ml of plant-based milk, almond milk adds a great taste.
2.Mix thoroughly together and leave to rest for 3 minutes; a few lumps in the batter are expected, don't worry.
3.Heat a light coating of oil over a moderate heat, coconut oil works best.
4. Pour 2 large tbsp. of the mixture into the pan. One serving makes 4 pancakes. Cooking for 2 ½ minutes, then carefully flip and cook for a further 2 minutes until golden brown.
UK Delivery

From £3.99 | Free Delivery From £50 | Order by 9pm for Next Working Day Delivery Read More

International

From €6.99 | Ship to Over 200 Countries | Order by 5pm for 48 Hour Service (Mon-Fri) European Delivery Rates


Returns

Lifetime Guarantee on This Product Read More
Q. What is TPW™ Vegan Protein Pancake Mix made from?
A. The main ingredients in a TPW™ Vegan Protein Pancake Mix are our innovative Quad Protein Blend.
Q. When is the best time to eat a TPW™ Vegan Protein Pancake Mix?
A. They're best taken for breakfast or as a snack.
Q. What are main reasons for eating TPW™ Vegan Protein Pancake Mix?
A. Vegan Protein Pancakes are ideal for anyone looking to increase their protein intake.
Q. Are all vegan protein pancake products the same no matter what brand you use?
A. As with so many things in life, if you don't ask the right questions, you won't get the right answers! The quality of ingredient can vary significantly and therefore the potency will do too. In addition, just because a product may be called pure it doesn't mean that it necessarily is. We recommend you read the ingredients and nutritionals on the label to better understand exactly what you are buying. We can assure you that our products are 100% pure.
Q. What if any side effects will I get from taking TPW™ Vegan Protein Pancake Mix?
A. We haven't heard of any nasty side effects from taking TPW™ Vegan Protein Pancake Mix.
Q. Can I use TPW™ Vegan Protein Pancake Mix with any other supplements?
A. Yes most definitely. TPW™ Vegan Protein Pancake Mix can literally go with any other supplement.